Diana and José met at the University. They studied together and liked each other. But both of them were in a relationship at the time.
"The truth is that José always stood out in all the classes, then we started working in groups and I found him interesting, because he is very smart. We were four friends and he was the only man in the group. We used to call him 'el aguacerito', because he liked to flirt with all the girls", Diana comments jokingly.
Although the friendship was going well, in the middle of a job they ended up arguing because for her, he was very 'arrogant' and always wanted to impose his ideas.
Diana no longer had a boyfriend and one day, José asked her out, but she did not want to be alone with him and asked one of her friends to go with her.
"I remember that date changed everything. Because I like simple and uncomplicated plans and I thought he was kind of haughty. And it turned out he wasn't. We sat down in the corner of a street to eat bread and juice, and we laughed like never before", she says.
At the time Diana was 18 and José was 27. She admits that she has always been attracted to older men. So for them it wasn't an impediment, but Diana's parents didn't see it the same way.
"My dad told me he was too mature for me; same as my mom. But they finally accepted him and today my dad and José are very close friends, so much so that they cover for each other", she notes mischievously.
When Diana was already 20 years old, on December 3, José 'took her out to live' and since that day they have been together for 5 years. They continued with their studies, graduated, started working and formed a home from which a beautiful boy, now three years old, was born.
So far it looks like many stories of couples who meet, fall in love and live happily ever after, but this story has an erotic twist that the well-known '50 Shades of Grey' can't beat.
"One December 7, four days after we started living together, we went out with a friend and got drunk. When we were on our way home, I approached José and told him in his ear: 'that I was hot' and there in the street, with the complicity of my friend, I gave him oral sex. That moment was so exciting. We got to the apartment and finished what started in the street", says Diana.
After that experience, they began to talk about how exciting it was to feel watched and, although they did not know much about the swinger (sw) theme, they decided to create accounts on different platforms and see what it was about.
"We started receiving a lot of invitations. First we met with the couples to get to know each other and see if there was chemistry or not. And if there was chemistry, we exchanged numbers and kept talking until we had a meeting. The truth is that we are not with just anyone. We are very careful and respectful", they say.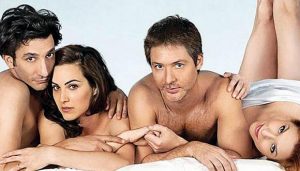 Diana and José confess that in Barranquilla there are many sw couples, especially from social status 4 and 5. Since they entered the swinger world they have been with three couples and have participated in several threesomes. They explain that this lifestyle has united them more as a couple, there is no jealousy and, of course, there is a lot of trust and their love is still intact.
I asked them if there are rules in the 'swinger world' and they replied that there are many, but the golden rule is that if a couple says no, you don't insist. In addition to using condoms, hygiene is important, as is respecting agreements and being discreet.
"In our case, we do everything in each other's presence. That's what trust is all about. Of course, before the encounter, we make things clear, what we can and can't do. There is always a dialogue with the other couple beforehand", they say.
But there are more rules between Diana and José, neither of them can call or text the other couple after the encounter unless they agree. The decision to be with a partner or a single (a third party) is up to both of them.
I asked them what they liked the least and, immediately, they answered that society is not prepared for this lifestyle and they only judge without understanding it. It also bothers them that there are many people who, supposedly, go with their partners and it turns out that they hired a prostitute.
What they enjoy the most about the swinger lifestyle is the freedom and confidence they have as a couple, because they can meet new people, without the need to hide and there is no fear of losing everything they have built.
They confess that the best thing is the adrenaline and the fascination they feel when they look at each other while having sex with other people. "It's something you have to experience", they assure.
"In Barranquilla there are several clubs that make money out of this lifestyle. They charge to enter, to make your fantasies come true, everything. It's about changing that perspective that swingers are in need of sex and it's not like that. We know sw couples with whom we have never had sex. We share as friends and we feel good", they explain.
The couple's experience so far has gone smoothly, but they have had one or two not so memorable moments: "Once we were about to have an encounter with a swinger couple, supposedly everything was clear. Until the man from the other couple kneels down in front of José and tried to 'give him oral sex'. José pushed him away and we got out of there. It turns out that the guy was bisexual and although some couples agree to this type of relationship we do not. It was a bad experience, but also very funny".
I asked them if this lifestyle is a permanent thing or just a stage of their life as a couple.
"We don't know how to answer that question. At the moment we enjoy it very much. Sometimes we go months without meeting couples and suddenly one appears and there's chemistry. So, we believe that you don't stop being a swinger".
Finally, Diana and José confess that each person is free to enjoy their sexuality according to their tastes, their habits and their fantasies: "Fantasies can't just stay in that way, you have to make them happen and what better way to do it than with the person you have by your side, the one you love and who loves you. It is trust. It is commitment. Swinging is a lifestyle".
Traducción del español: Catalina Oviedo Brugés.