I spoke, #sinrecato, with Stephanie Masco, a young woman from Barranquilla who went from being an accountant assistant to become the official image of one of the most important Sex Shops in Colombia.
She confesses that being the image of the erotic store was not an easy decision: "One thing is talking on the phone or giving advice to a customer in the store but shooting a video for social media when you know that everyone is going to see you was very difficult for me".
The first video she made was to promote a vibrating ring and it took several months of recording, because she was never happy with the result. As soon as she saw the camera on, she would get nervous, "it was a self-sabotage", as she describes it.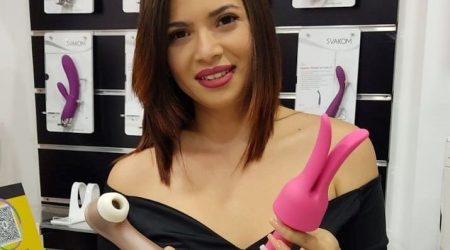 In the midst of the pandemic, she became part of Erotismo Fm's team. "It's a radio station that talks only about sex. My podcast on Erotismo FM was a resounding success, we did it every night live… I didn't like the cameras before, but now I love them."
The podcast is being adjusted and soon, it will be resumed with more surprises and news for Stephanie's and erotismo.co's followers.
After seven years in the adult entertainment market, erotismo.co can proudly say that it is the sex shop in Colombia with more positive customer ratings on Google. "We stand out for excellent advice, accompaniment and many times we prefer not to close a sale if it will cause harm to the customer. It's not just about selling, the health and sexual well-being of the clients come first", says one of the partners of this business.
Of the many cases they have had to handle, they highlight one in particular, that of a young man who had a painful condition. "Since puberty, the boy suffered from internal curvatures in his penis and when he had an erection it was painful. His family was desperate, and doctors had not found an effective treatment to help him. Until a doctor recommended a product that we handled at that time, called Pro extender, which the young man could use while leading his normal life, going to work and it was not noticeable with his clothes", they say.
"To be part of a solution of that magnitude was very gratifying to me. From that moment on I understood that it is not about selling a product but about helping our customers. In my case, I get involved with female clients, when they ask me for example, that they want an anal numbing agent and, confidently, they tell me their intimacies, I end up as a therapist and that is where we make the difference in the counseling", says Stephanie.
She also tells one of the many anecdotes in the business. She highlights the one of a mothers who bought a sex toy for her teenage son: "She asked me for help to buy a masturbator for her son. In this prudish world, I thought 'wow! Your mom is buying you a masturbator?' I want to have a mom like that, sounds great", she laughed.
The beginning of Sex Shop in Barranquilla, was full of stumbles. "This business started with 700 thousand Colombian pesos, according to what the owners tell me, and because they had no knowledge and were poorly advised, they bought the most expensive toys and they almost got cobwebs because they weren't been able to sell them", she comments jocularly.
I asked her about the store's most popular toys. "Anal products sell out every day. It's amazing how many people call in to buy them. Secondly, there are the retardants; customers tell me they want to last longer in the sexual act. And now the newest thing is interactive toys, like the satisfier (clitoral suction) that is the star product, everyone wants to have it".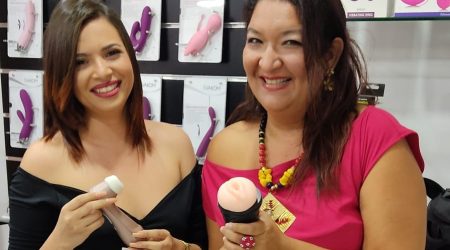 Stephanie assures that there are people who like to buy but do not like to get products suggested; that is why the intention of the store is to take care of the customer's investment and that is the reason for providing advice as a sex shop, wholesale.
One of the partners intervenes and points out that nowadays many wholesalers buy in the store to also start a business "and it is very inspiring to support others".
Stephanie speaks that the sexual taboo continues and more so for women. "This is adult entertainment. If you're going to whip your wife or girlfriend, it's because she's okay with it. Because you talked it over and you both want it. No one should be forced to do something they don't want to do. There are many women who experience things they don't want and do it to please their partner or maintain their marriage. Women should forge a character about their sexuality and say 'look, I don't want this, I want this'", she emphasizes.
Today, the future of sex shops is in the digital world; however, she considers that it is also very important to have personal contact with the customer when they visit the physical store, "there is always curiosity to see the product in real life and not through a cold screen", says #sinrecato.