That feeling when you meet someone and something happens that you cannot explain: you just connect with them, for no apparent reason and, suddenly, experience intense, chaotic and even contradictory feelings. All this happens because of a combination of hormones that make you, literally, "crazy in love".
Perhaps this revelation takes some of the magic out of this wonderful feeling, but the reality is that, scientifically, love is explained by biological processes, nerve impulses and electrical reactions.
When you fall in love, the body releases many chemicals and experiences some physical reactions such as: acceleration of the heart rate and breathing, a release of energy, euphoria, joy and excitement.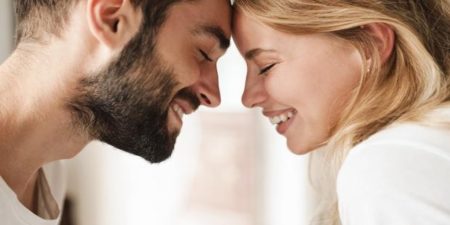 This behavior is similar to that experienced by cocaine or opiate users and even by those suffering from obsessive disorders. Like any chemical process, it goes through some stages:
Stage 1, attraction: what draws us to another person? Everyone knows what their likes and dislikes are, consciously or unconsciously. Sometimes you are attracted to someone because you have similar values, sense of humor and even a particular physical appearance, but not every time it is guaranteed that you will truly like them.
The scientific reason behind this is related to reproductive instinct. If couples have different immune systems, the genetic load will be more varied. At this stage, specifically, there is a hormonal release of dopamine, norepinephrine and phenylethylamine:
Dopamine, or love's drug, is a neurotransmitter that produces pleasure and euphoria when you are with the person you like. It has a powerful reward system and therefore creates "the need" to be with them.
It is the same neurotransmitter that is activated in gambling addicts and drug addicts. When the effect of dopamine disappears, both in love and in other addictions, the person falls into sadness and obsession.
Norepinephrine makes the heart beat faster, raises blood pressure, causes joy and excessive euphoria, to such an extent that it inhibits the sensations of hunger and sleep.
But there is more, in addition to this roller coaster of emotions, thanks to norepinephrine, you no longer think clearly; that is, you do not hear, nor see, nor understand and only focus on the fact that there are only two people in the universe; you and your loved one.
Phenylethylamine. If the above seemed intense, now comes the cherry on top. This substance invades and dominates your body completely. This neurotransmitter, along with dopamine and norepinephrine, makes everything more intense. As a curious fact, it is related to amphetamines and is found in high doses in chocolate.
Stage 2, hormonal connection: the first stage is characterized for being the most passionate one. But, in this second stage, the bond between couples is strengthened. In addition to the chemistry of love, factors such as commitment and stability also play a role. The hormonal cocktail continues in this stage with oxytocin and serotonin:
Oxytocin is released with physical contact (hugging, kissing and sex, especially when orgasms occur). It helps to create strong and permanent bonds.
Serotonin is the neurotransmitter of happiness and is released when you are next to the person you love. However, when the brain gets used to it, it wants a bigger and bigger dose.
The point is that, if a relationship ends, the levels of love hormones plummet and provoke feelings of frustration, anguish and deep sadness.
Experts confirm that the brain needs some time to recover and level out chemically. Therefore, psychologists recommend zero contact therapy after a breakup, because contact with an ex is likely to reactivate the neurotransmitters of falling in love.
Other hormones are also involved in this chemical process, such as:
Adrenalin: it is released into the bloodstream and acts on the cardiovascular system, it keeps the body alert in situations of excitement, thrill and even stress.
Endorphins: these are neurotransmitters that produce well-being and happiness, even if everything around us is chaos. The act of being with that special someone will make everything ideal.
Acetylcholine, endovalium and gonadotropins: this is a #sinrecato trio and you are going to understand why. Acetylcholine is secreted by any animal that is in heat and is what triggers the desire to have sex with the person you are attracted to. Endovalium and gonadotropins complete this fiery cocktail that acts directly on sexual desire.
As time goes by, the falling in love stage tends to disappear and, even if you love your partner, you feel that it is no longer the same. This is because this hormonal cocktail drops, and it is often misinterpreted as a "loss of love".
What truly happens is that the neuronal receptors become accustomed to chemical infatuation. The important thing is to distinguish between infatuation and love. Infatuation is related to chemical reactions in the body, love is related more to commitment and stability.
We must accept that the chemistry of love is what dominates most actions and emotions. However, even if a person activates this hormonal cocktail, we must be in control of what we feel.
The most important thing is to break with the belief that nothing can be done about falling in love. Many couples have toxic relationships and justify certain attitudes because "they are in love", when the reality is that people also have the reasoning capacity to choose what is best for them and also for their partner.
Traducción del español: Catalina Oviedo Brugés