The chastity belt reappears in the 2.0 era, but more as an instrument of pleasure. Of course, there is a history behind this medieval artifact, used at first to prevent sexual infidelity of women.
In the Middle Ages, according to historians, knights before leaving for the Crusades, or warriors before heading to fight against their enemies, would put an uncomfortable belt on their wives, securing it with a padlock and taking the key with them.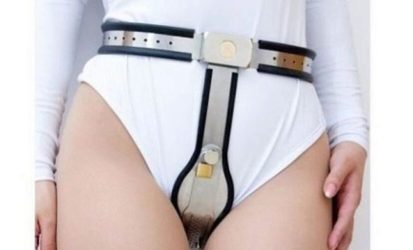 In the 19th century, many novelists in their stories exaggerated the mythical instrument, thus increasing the morbid and taboo that was created around its use.
In reality, the belt was always an element of torture; however, there are records of women who used it in England and France to prevent rape, in addition to demonstrating that it guaranteed marital fidelity.
In 1889, in the Austrian city of Linz, the corpse of an upper-class adolescent girl of the 17th century was found wearing a chastity belt. From then on, there are more credible testimonies, told by monks and teenagers, who also used it to guarantee chastity and avoid masturbation.
Thomas Hilmer, owner of a warehouse in Pennsylvania, USA, called 'The Chastity Belt', tells how he became a manufacturer: "Since 1990 I started making them and I am the first manufacturer in the world of high security chastity belts for sexual practices of domination and sadomasochism such as BDSM. My interest is to achieve creative and erotic art through working with metal."
But he is not the only one. Over the years, there has been a great variety of designs and models worldwide, such as those of the German Mario Latowski, who created a belt in the shape of a bikini; Neosteel makes them with built-in electric stimulators; Tollboy designs them in stainless steel; and CB 2000 in plastic, ideal for frequent travelers because they are not detected at airports.
The Italian Giuseppe Acacia, an expert manufacturer of reproductions of weapons and other medieval objects, has been making chastity belts for both men and women for more than a decade. He says that most of the belts are acquired by collectors, for film productions or to be exhibited in bars in several countries such as the United States, Russia, France, Great Britain, China, Argentina and the United Arab Emirates. 
Today, in the 21st century, belts are no longer made of metal, they are lighter and are made with more comfortable materials and designs such as leather, feathers and soft fabrics. The plus is that most are accompanied by dildos that are attached to the body of the belt.
Although the purpose of the garment is to prevent sexual intercourse, or masturbation, some manufacturers of male belts have models that cause automatic pleasure since the design does not prevent erection.
In this era, couples fantasize and exchange roles, in which they want to express their most secret instincts such as domination, jealousy and possessiveness. Nowadays, the situation is opposite to the medieval era; here there is no confinement and the submission will not always be to the woman but to a passive man happy to be trampled by his mistress.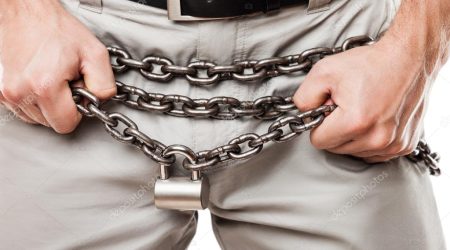 Sexuality, day by day, evolves and seeks to explore outside of traditional, romantic or legal contexts, to experience desire with games or exchange of roles in which other practices such as domination or possessiveness arise.
In modernity, the chastity belt has become an erotic element that can be used to punish or subdue. Whoever dominates, has absolute control and power over the sexual play overall and becomes responsible for the sexual play of the dominated one. Now, would you dare to use it to spice things up?
Traducción del español: Catalina Oviedo Brugés