Princess Mako and lawyer Kei Komuro met in 2017, at Tokyo Christian University. Four years after announcing their engagement they will finally say yes. The engagement was postponed several times and a Japanese Royal House's spokesman said that the princess suffered from post-traumatic stress syndrome because of the harassment of the press and because "she could not enjoy her quiet and happy life".
The niece of the Japanese emperor will not only lose her title of princess after marrying a 'commoner'. She will voluntarily give up the dowry of 150 million yen (more than one million euros) given to the women who leave the royal family.
Analysts explain that giving up the millionaire dowry is controversial because the law does not provide for its payment in case of divorce and it would be a national disgrace for a princess to have to earn a living as a commoner.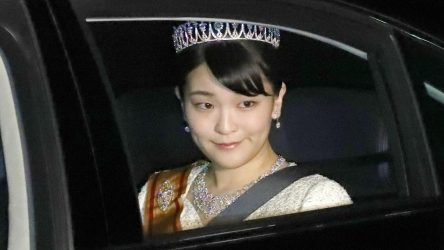 Princess Mako is not the only one who has given up all her privileges for love. Today we will tell you #sinrecato about other royal characters who put aside their titles, economic and social position in the name of love, real and grounded love:
The Duke and Duchess of Sussex, Harry and Megan Markle, announced in 2020 that they would no longer actively participate as members of the British Royal Family. Today they live between Canada and Los Angeles, enjoying a more or less ordinary life with their young children.
Princess Sayako of Japan: Sayako, the youngest daughter of Japan's emperors, Akihito and Michiko, gave up her titles for love. In 2005 she married a municipal official and city planner, Yoshiki Kuroda. At her engagement party, she announced that she would give up her duties and titles of nobility. For the past two years she has been the high priestess of the Ise Grand Shrine, a position she inherited from her aunt.
Chris O'Neill: The husband of Princess Madeleine of Sweden gave up all the titles offered to him by his father-in-law when he married the princess in 2013. Actually, the main reason was not love. The businessman needed freedom to be in charge of his business, without owing anything to the crown. The princess has not given up her rights or the line of succession, and they must remain in the country so that their three children do not lose their privileges.
Friso of Holland: The brother of King William of Holland stood up to his mother to marry Mabel Wisse, a former spy in the 1990s. However, it was Wisse's relationship with the drug trafficker Klaas Bruinsma that most upset the Parliament. Friso and Mabel happily married in 2004 and moved to London. In 2013, Friso died in a skiing accident. And despite so many stumbles in their relationship, today the widow maintains her title of princess and a cordial relationship with her in-laws.
Edward VIII of the United Kingdom: He was a great scandal in the first half of the 20th century. In 1936, only 325 days after ascending the throne as King Edward VIII, he read his resignation live to the BBC. He married Wallis Simpson, an American, twice divorced; a situation that caused a constitutional crisis and also a problem for the royal family. Next in line was his younger brother, George VI, father of Queen Elizabeth of England.
Mako and Kei will get married on October 26, a day considered special for good omens according to Buddhism, and they will really need it after going through the world press, psychological pressure, economic problems (although this is not very credible) and the strong opposition of public opinion.
Many followers of the lives of the world's royals wonder: did the princess really give up everything for love or to escape from a suffocating institution? 
I, in the name of love, trust that they will live happily ever after. Chao!
Traducción del español: Catalina Oviedo Brugés