Today I want to make a Sin recato confession to you, and do not be shocked; in fact, I think that 80 or 90 percent of you will agree with me. Here it goes: there is no better place than the bed to have sex! Someone had to say it. 
But by saying this I am not denying that, from time to time, you have to get out of your comfort zone and make slight changes to experience discomforts that, at best, may awaken the baser instincts.
I did the homework for you, my loyal readers, and found eight sex positions that do not require a bed; most of them are standing or vertical positions; so, if you accept the challenge, put some of them on your list and let me know how it goes.
Against the wall: this is a classic standing sex position.
Pro: the wall is the support. The man stands and holds the woman facing him, she holds onto him by hugging him with her legs.
Con: both must be in a good physical condition and especially he, who will be holding her while he penetrates her.
Difficulty: High.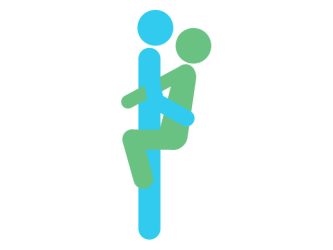 Half doggy style: a variation of the doggy position, this time it is done standing up. The woman is fully supported on a surface and the man holds her by the waist.
Pro: there is a half-height support point such as a table or a strong piece of furniture. He can penetrate her vaginally or anally.
Con: do not use unsafe support points because you could have an accident.
Difficulty: Low.
Plus: if you do it in front of a mirror, it is an extra arousal.
The Indian Pine: the acrobatics have begun. For this position, the woman must rest her hands on the floor and raise her legs, as if she were a wheelbarrow; she is on her back and surrounding his waist with her legs. For those who practice yoga, it is called sirsasana, that is, doing the pine tree.
Pro: it will be easier if you practice yoga, the thing is to balance. With a slight flexion of him you will be able to couple your genitals and let the fun begin.
Con: if you are not connected and concentrated you can have an accident.
Difficulty: High.
Face to face: both are facing each other. A fused embrace while enjoying each other.
Pro: eye contact, hands free to touch each other. You can look for a foothold for safety and avoid an accident.
Con: since it is a standing position, balance is lost faster and fatigue in his legs is felt.
Difficulty: Medium.
Standing oral sex: by lowering the intensity a little, you can surprise your partner by giving them oral sex standing up. It is not physically demanding.
Pro: giving pleasure is as exciting as receiving it, you just have to alternate and both of you will enjoy it.
Con: None.
Difficulty: Very low.
Acrobatic oral sex: it is a 69 for acrobats; actually, it has a high physical demand because the man holds the woman in the air and she has her thighs around his neck.
Pro: anything that represents novelty is exciting and adrenaline pumping.
Con: there is no foothold, the man's legs and arms support the woman while both orally stimulate each other's genitals.
Difficulty: Very high.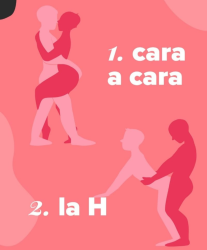 The clamp: in this position, she supports herself on one hand and puts one of her legs between his legs and her other leg on the other side, forming exactly a clamp around the man's thighs.
Pro: discomfort is also exciting, you just have to try it.
Con: it requires strength from both of you so you must be coordinated and communicate while you are enjoying it.
Difficulty: High.
The H: this position is a variation of the classic doggy style. The woman is on her back, not fully lying down, and the man penetrates her from behind, holding her waist and controlling the vaginal or anal penetration.
Pro: It is not physically demanding.
Con: it has none.
Degree of difficulty: Low.
Plus: in this position the H is not mute, it has license for moans, screams and dirty words.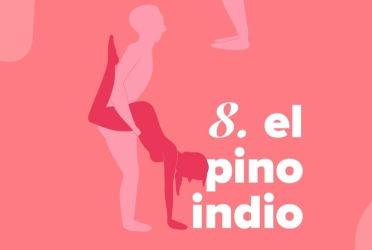 Sin Recato Recommendations:
It is important to have somewhere support for this type of positions to avoid an accident, because, since you are probably not used to having sex standing up, both of you could lose your balance. You should have a firm base nearby such as the kitchen counter, a table or a heavy piece of furniture that gives you security and stability during the act.
Sometimes the discomfort does not allow orgasms to flow, so this should not be the concern. If it drags on or you are already tired, make a stop, settle down and go to bed or to the sofa where you feel comfortable. Simple.
Practice makes perfect. Do not see it as an imposition, sex is fun, but it also requires learning, communication and consent. If you do not tell your partner if you feel comfortable or uncomfortable, it will be difficult for them to understand. The more positions you try, the more things you will discover. Who knows? You might find other forms of pleasure and other erogenous zones that you may not have known about.
Traducción del español: Catalina Oviedo Brugés.