Who does not like to read a good love story? Personally, I love to, so I want to share with you this one that took place in the Byzantine Empire in the 6th century. It is about Emperor Justinian I and his wife, Empress Theodora. 
Justinian will always be remembered for his great legacy to Roman law in the work Corpus Juris Civilis, which to this day is the basis of the Civil Law of many modern states. And although not much was written about Theodora, it is known that she was always by his side as they lived an unforgettable romance.
But as always, there were haters for this relationship like John of Ephesus, the historian and leader of the Eastern Orthodox Church in the 6th century, who referred to Theodora as the "wine of the brothel". But, how did this love story begin?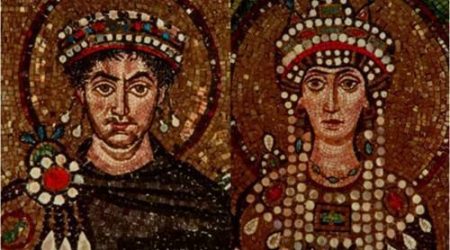 It turns out that Petrus Sabbatius, Justinian's real name, was born around the year 482 in a humble family, but as some are born with a silver spoon in their mouth, Petrus was given the chance to have one: He was adopted by his uncle Justin I and that detail changed his life forever.
Justin I was a military man who was promoted to commander in Constantinople, he had a lot of power and was part of the imperial guard. Justin I took his nephew and he changed his name to Justinian, receiving an excellent education and the privilege of rubbing shoulders with the court of Emperor Anastasius I.
Suddenly, Anastasius passed away without leaving an heir. Guess what happened? Uncle Justin I became the emperor of Rome in Constantinople. Do not take my word for it, but several contemporary historians say that it was all Justinian's doing.
Justin I by then at 65 years old was an ailing old man (nothing could be further from the present day) so his nephew stood firmly by his side and, of course, held high office. Then, along comes cupid and arrows him when Theodora appears.
Theodora was born in 495 in Constantinople. She was fatherless and lived with her mother, a theater artist. Theodora had a sister, who became a famous singer and she became an actress, dancer and comedienne.
When she turned 18, she left everything behind to become the mistress of the governor of the current city of Libya. Then, they separate and she joins an ascetic community in the desert near Alexandria. At the age of 21 she meets Justinian and, despite the age difference, they become the perfect couple. According to historian Robert Browning, author of "Justinian and Theodora": "She was beautiful, self-confident and sharp and he was reserved, unsmiling and not so graceful, but they had absolute confidence in each other".
However, there was one major impediment and that was that, legally, it was forbidden for a government official to marry an actress, because she was considered a prostitute, and in the case of Theodora who had ceased to be one, for all intents and purposes it was against the law.
Never mind Justinian's power and his closeness to his uncle, Empress Euphemia was intense and did not allow them to get married. The point is that until the death of aunt Euphemia, the old Justinian was able to reform the law and the bride and groom got the opportunity to say "I do".
And despite all odds, the son of a farmer and the daughter of an actress became emperor and empress of the Byzantine Empire. They were recognized for ruling as equals and together they created a legacy that would be the beginning of the concept of the modern Western state, the power of the Eastern Orthodox Church and the basis of European law.
And although she was labeled a prostitute, for Theodora, prostitution was a social justice issue rather than a moral problem, which was a product of economic inequality. She also worked to protect the rights of prostitutes by closing brothels, creating safe houses and prohibiting forced prostitution.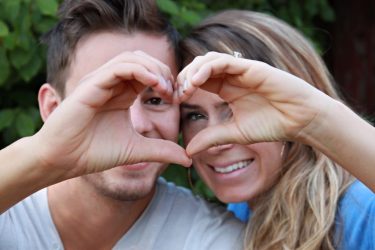 Theodora was a visionary and advanced woman for her time. Through law she was able to elevate the role of women achieving the acquisition of many rights. These emperors lived a time of changes in the midst of great religious and political confrontations.
Together they built aqueducts, bridges and more than 25 churches, among them the Church of Holy Wisdom, considered the largest church of the time and a Byzantine architectural jewel.
Theodora died in 548 at the age of 53 and Justinian died in 565 at the age of 80. After Theodora's death, the status of women in the Byzantine Empire changed, which elevated their position in comparison to the one of women in the Middle East and Europe.
Undoubtedly, these characters lived a movie romance with their respective 'happy ending'.
Traducción del español: Catalina Oviedo Brugés