Today, in the confessional we talked Sin Recato with Camila (*), a young 35 year old woman from Cali, who after losing 20 kgs says that she got her sexual desire back: "I looked at myself in the mirror and I didn't know who I was, I felt ugly, my clothes didn't fit anymore and when they did, I felt sealed, I couldn't even breathe. Sex with my husband started to become repetitive, with the light off, I didn't even take off my robe (pajamas), it was more to please him, because I didn't feel like it".
And although she admits that her husband did not say anything to her regarding her appearance, he did start to complain to her because she did not want to be with him. "It was something very strange, because I have always been a hot woman and suddenly I practically turned into an ice floe. Sometimes I was fine with him talking, laughing, but as soon as he got affectionate, he would immediately make me uncomfortable, I would block myself and I could not hide it. I would make up a thousand excuses; I would tell him I was tired, that I had a headache, a thousand excuses not to be with him".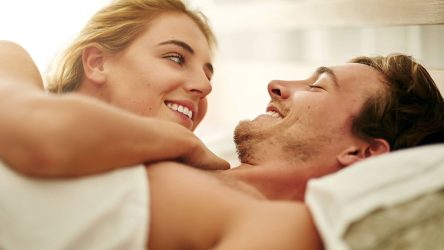 Camila says she never had problems with her weight, only that she began to neglect her diet and her life became sedentary. "I didn't work out and although I didn't consider that I ate a lot, I did snack and I liked sweets more and more and it was the reward after having a week of hard work."
She used to weigh 60 kgs and the day she went to the doctor for a general check-up she could not believe it. "When I saw that the scale read 90 kgs, I don't know what hit me. I got scared. I lost my appetite. The doctor told me I was overweight and referred me to the nutritionist".
She immediately started eating a balanced diet, preparing her lunch and taking it to work: "It wasn't easy. I used to not eat breakfast, I had a coffee, lunch was a hamburger with soda and chips, and dinner was anything. I had no awareness of my diet. I started to unlearn those bad habits I had".
Of course, within a month the change was noticeable, her clothes fit looser, she felt more confident: "It's incredible how losing weight gave me back my confidence in myself as a woman. The mirror was my tormentor, that's why I didn't buy clothes anymore, I always looked deformed. So I punished myself. Now I feel happy when I see myself in the mirror", she confesses mischievously.
Like Camila, there are many women who suffer in silence, while they find an explanation for their low sexual desire. Health experts confirm that the increase in body fat causes a decrease in testosterone levels, which is the hormone that regulates sexual desire. 
Another important aspect is the psychological one. In the case of women, when, for example, they go to a store and cannot find clothes in their size, the conflict with their body and self-esteem begins, and finally ends up affecting their social life and, of course, their intimacy, because they feel insecure in front of others.
Another difficulty caused by obesity and being overweight is getting pregnant. Camila and her husband have been trying for a long time: "We are very close to our ideal weight and although it sounds strange, at the moment we are planning to have a baby. Before, I was afraid of getting pregnant because I was overweight and I read a lot that I could end up with hypertension and diabetes", she says excitedly for the earlier part.
"As I started to lose weight, the flame of passion was rekindled. I felt again, spontaneously, the desire to be with my husband, as before, I was me again", she says with joy.
(*) Name changed
Traducción del español: Catalina Oviedo Brugés